If you are running Girl Scout cookie booths then myCookie Booth is for you.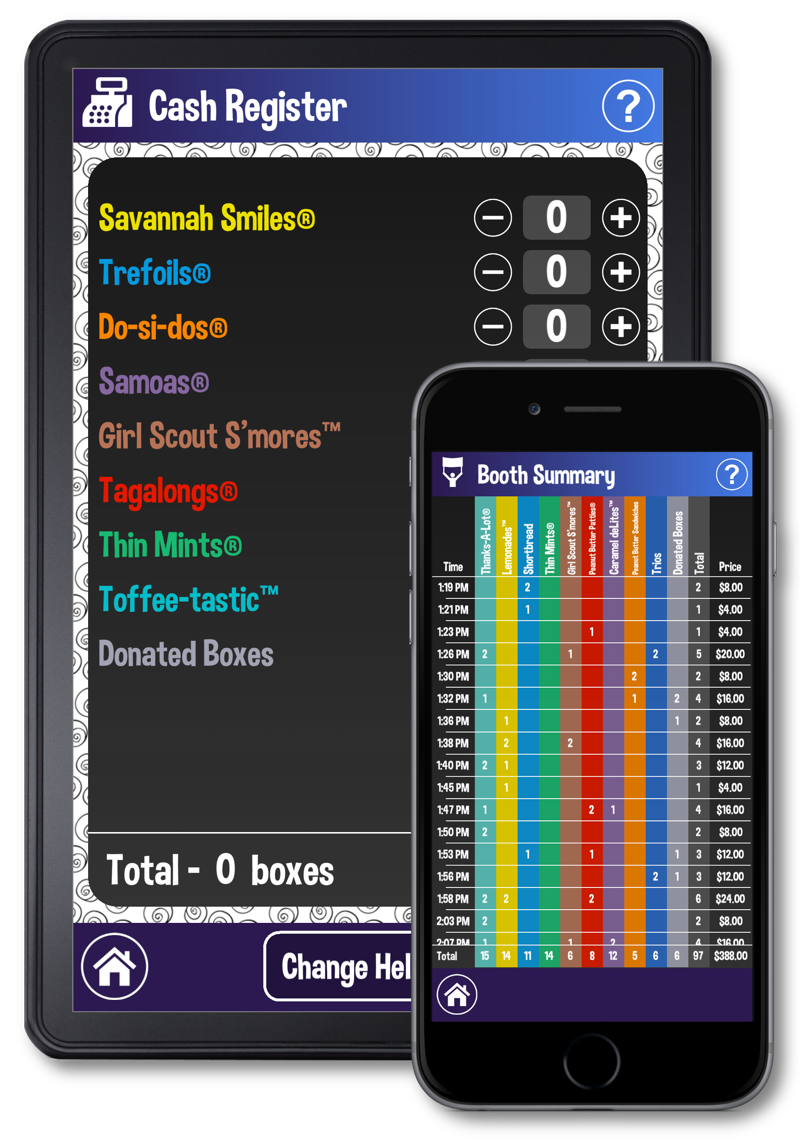 myCookie Booth is an easy-to-use mobile app that makes organizing, running and analyzing your Girl Scout cookie booths simple and fun. Keep track of booth information including starting and ending cash and boxes of cookies for easy end-of-sale reconciling. Intuitive sales form assists scouts of all ages in entering sales and making change. Scouts and leaders can take advantage of analyzing booth sales statistics.

New to this version is the option for multiple devices to sync to the same booth with two levels of access. The admin has full access, which includes the ability to edit and change the booth setup details. With limited access, the end user can enter and edit booth sales and view the sales summary and sales chart.

Created by an experienced Girl Scout cookie-selling family who has run numerous cookie booths. Special care was taken to make sure the app is simple to use for scouts of all ages and still includes all the necessary tools for organizing, running and analyzing booth sales.

Please note- we never ask for your personal information such as your name and email to use myCookie apps. Download and get started right away. We hope you enjoy.
Setup and help:
Simple setup has you up and running quickly.
Choose cookies from two sample lists by baker or create your own list to match your cookies being sold.
Customize cookie list: name, color, price, and list order.
View a detailed help screen in each section.
Internet connection is not required except when using email and sync features.
Use multiple devices:
Multi-device syncing for individual booths.
Enjoy two ways of accessing the booths, as the Booth Admin or as a seller only. This allows multiple girls the ability to use their own devices at a sale but have limited access as to not alter the booth setup and info. Each girl would need to sync her device one at a time afterwards.
Internet connection is required to sync devices.
Record Keeping:
Email the details of your cookie booths directly from the app to save for your records or to share with others.
Selling during the booth:
Cash register feature makes it simple to:

Enter a new sale and view the total due.
Utilize the change tool and see how much change is due by currency unit.
Track boxes sold and donations received.

The sales tools allow scouts of all ages to work the booth more independently.
Overview screen lets the scouts watch as their sales add up.
Manage multiple booths:
Track unlimited cookie booths listed by date.
Sync individual booths with others to coordinate booth details and info. Great if one person opens the booth but another person closes it.
Set the date, address and notes for each booth.
Record starting and ending cash and boxes of cookies for easy reconciling.
Overview screen lists all cookie sales, with the time of sale and totals.
Graph shows sales made by half hour increments to make analyzing productive sales times easy.